Upcoming Performances and Events 2013

MAY 2013

JUNE 2013

October 2013

LAND OF THE ETERNALS
Presented by Beau Ideal Productions

NOVEMBER 2013

TRIBAL BURN - November 1, 2 & 3, 2013
Presented by HipExpressions

Past Performances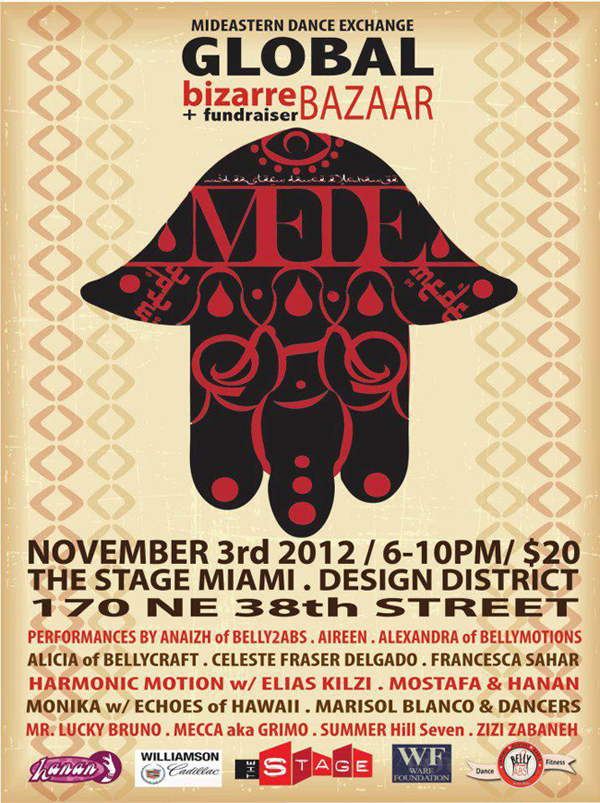 Saturday, June 10, 2012
Tribal Solstice 6 in Fort Lauderdale, FL
Presented by: Lotus Dance Studio and Kala Tribal Productions

Monday, March 5, 2012
Club Bellydance in Miami Beach, FL
Presented by: Bellydance Superstars & Miles Copeland



DANCER LINE-UP
Bellydance Superstars - Sabah, Lauren, Moria, Stefanya, and Sabrina AND special guest Bozenka!
MIAMI Dancers - Alicia of BellyCraft, Daniela, Lotus Dance Studio, Alexandra, Stacy, Anna, Francesca, Roshana Nofret, Fleur de Lys, and stars of the Miami bellydance community!

VENUE
Byron Carlyle Theater
500 71st Street
Miami Beach, FL 33141

Saturday, January 14 & Sunday, January 15, 2012 - Alicia in Atlanta
Presented by World Bellydance Alliance

Saturday, December 10, 2011
Lotus Dance Studio Holiday Show featuring Sharon Kihara in Pembroke Pines, FL

Saturday, November 19, 2011
Thanks to Bellydance hosted by Bozenka at The Art of Bellydance in Miami Beach, FL

Tribal Solstice V: June 17-19, 2011 in Pembroke Pines, FL
TRIBAL SOLSTICE SHOW
Saturday, June 18, 2011 at 8:30pm
Cinema Paradiso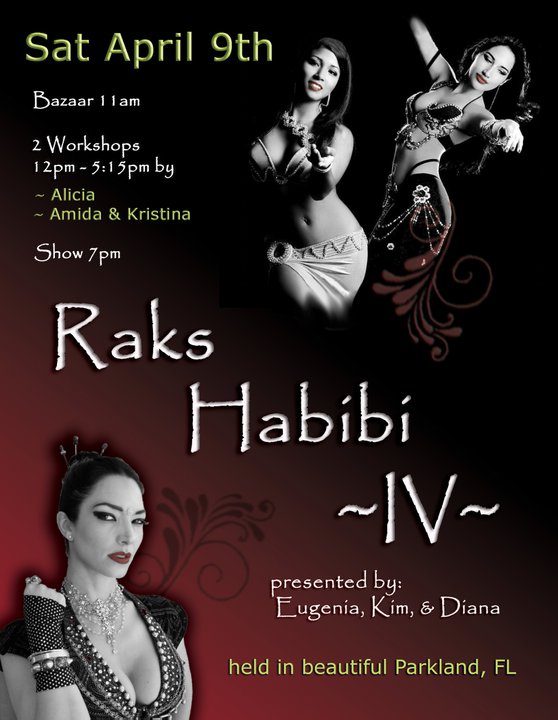 2010

2009
Saturday, August 15, 2009
Alicia of BellyCraft teaches and performs in Atlanta, GA presented by Atlanta Bellydance.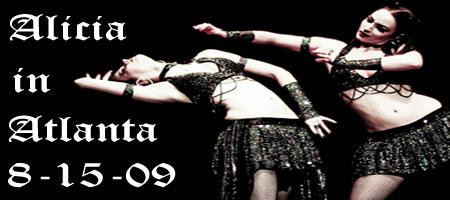 Saturday, November 14, 2009
BellyCraft performs at The Sharqi Experiment Show presented by Daniela in Palm Beach, FL

Sunday, November 15, 2009
"Defying Gravity" - Alternative Floorwork for Bellydance at The Sharqi Experiment presented by Daniela in Palm Beach, FL

Saturday, June 20, 2009
Tribal Solstice 3 featuring Donna Mejia presented by Lotus Dance Studio in Pembroke Pines, FL

Friday, June 12, 2009
World and Bellydance Extravaganza presented by The Goddess Store & Studio in Hollywood, FL

Friday, May 8, 2009
Spirit of the Tribes #9 at the War Memorial Auditorium in Fort Lauderdale, FL

Saturday, March 21, 2009
An Evening of Faerie Tales presented by Lotus Dance Studio at The Cinema Paradiso in Ft. Lauderdale, FL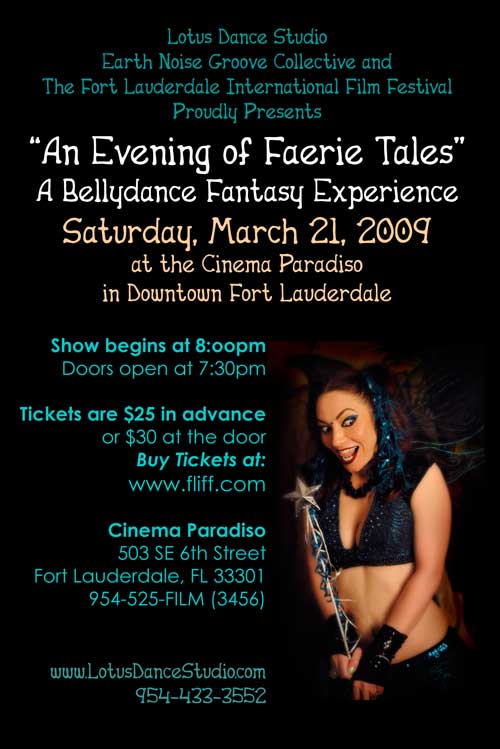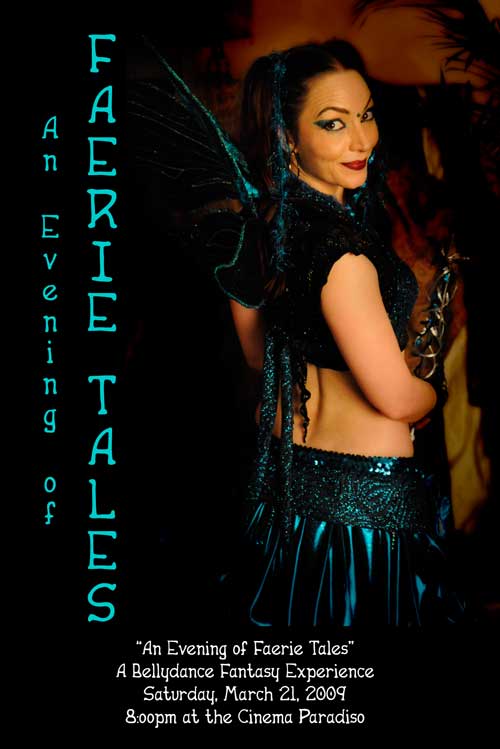 2008
Saturday & Sunday, November 1 & 2, 2008 at 8pm
TAROT - a fantasy bellydance concert presented by Venus Uprising in New York City, NY

Saturday, October 25, 2008
The Dead Can Dance - A Gothic Bellydance Show presented by Lotus Dance Studio at The Cinema Paradiso in Fort Lauderdale, FL

Saturday, June 21, 2008
Tribal Solstice 2 presented by Lotus Studio at The Cinema Paradiso in Fort Lauderdale, FL

Friday, April 25, 2008
SPIRIT of the TRIBES 8 at The War Memorial Auditorium in Fort Lauderdale, FL

Saturday, March 29, 2008
"The Awakening" Faerie Bellydance Show at Lotus Dance Studio in Pembroke Pines, FL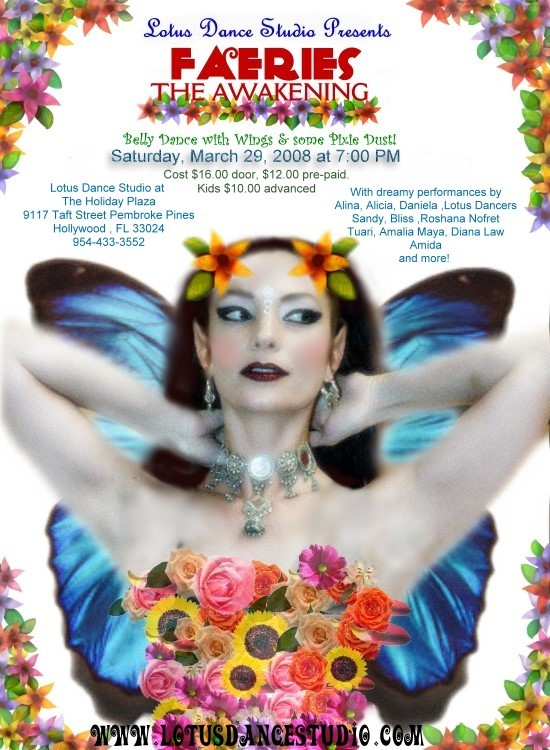 Sunday, January 13, 2008
First Anniversary Party at Lotus Dance Studio in Pembroke Pines, FL

2007

Saturday, December 1, 2007
The Sharqi Experiment at Rumba Fitness Studio in Pompano Beach, FL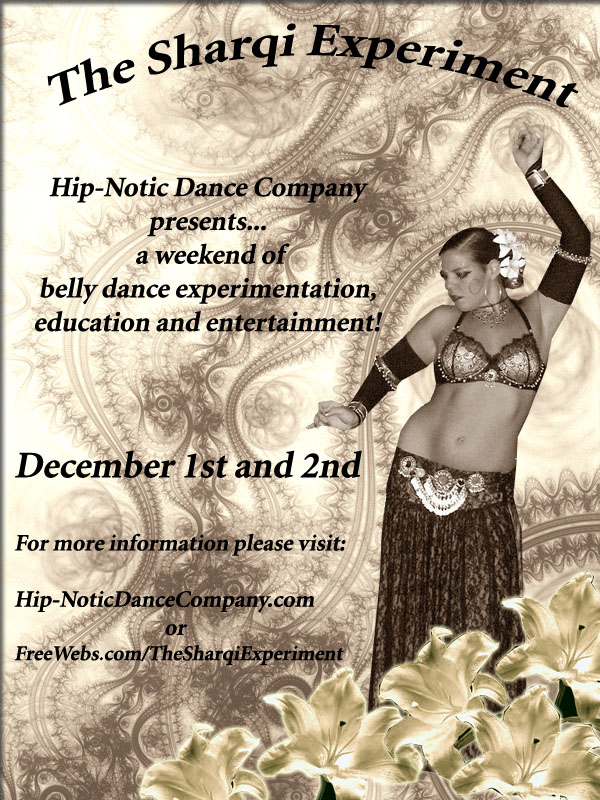 Friday, October 5, 2007
Boundless & Beyond "A variety of modern bellydance visions" presented by Alicia of BellyCraft at Bozenka's Bellydance Academy in Miami Beach, FL
Saturday, June 23, 2007
Tribal Solstice at Lotus Dance Studio in Pembroke Pines, FL

Friday, May 18, 2007
Orientalia 2007 on Lincoln Road in Miami Beach

Friday, April 27, 2007
Spirit of the Tribes 7 in Fort Lauderdale

Sunday, February 25, 2007
Bozenka's Bellydance Academy Open House in Miami Beach

Saturday, February 3, 2007
Kamilah for Breast Cancer Benefit in Miami

Saturday, January 13, 2007
Lotus Dance Studio Grand Opening Celebration in Pembroke Pines
2006

Saturday, November 11, 2006
Camelot Days at TY Park in Hollywood
Saturday, November 4, 2006
UNDER A TRIBAL MOON at The Wall Flower Gallery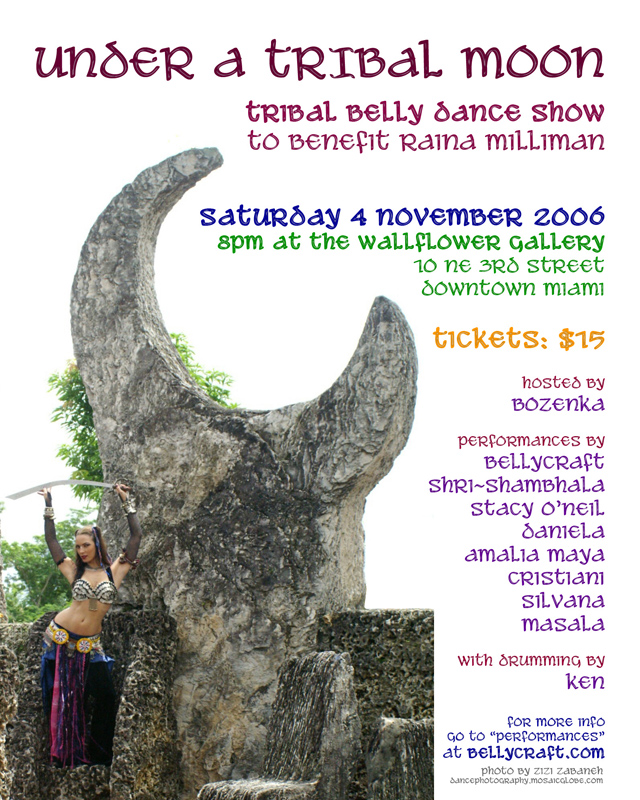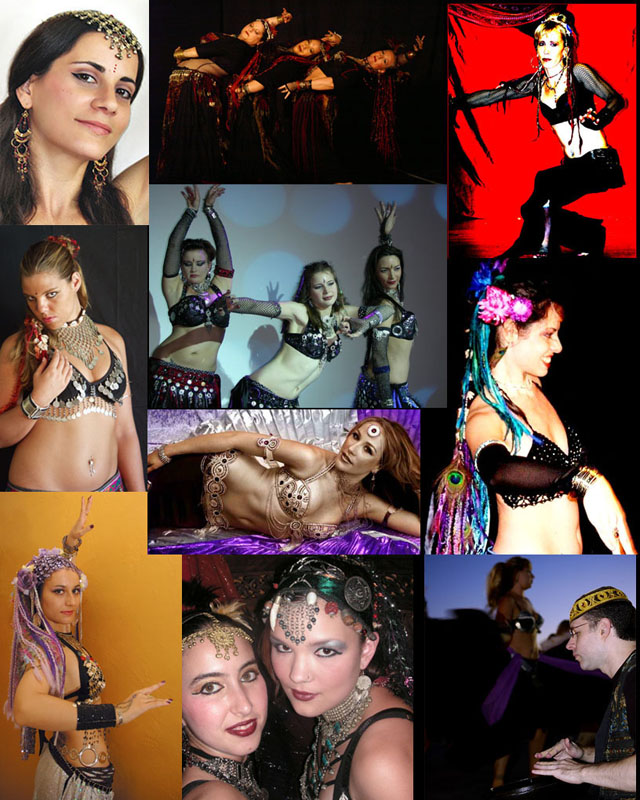 Sunday, October 29, 2006 at 7pm
Evil Elviza's Halloween Spooktacular at Uva in Coral Gables
Dancing for Raina at Basha Grill - Boca Raton, FL
Mid Eastern Dance Exchange Open House - Miami Beach, FL
Orientalia 2006 - Miami Beach, FL
Mid Eastern Dance Exchange 16th Anniversary Show - Miami Beach, FL
MECDA Florida Kick-off with Ansuya, Uva – Coral Gables, FL
Shades of Indigo with Rachel Brice, Discount Music Center – Orlando, FL
Shri~Shambahla Birthday Bash at the Wall Flower Gallery – Miami, FL
Fundraiser at the Mid Eastern Dance Exchange - Miami Beach, FL
2005
The Wall Flower Gallery - Miami, FL
American Express Corporate Event at the Conrad Hilton - Miami, FL
Springs Studio 2005 Recital Emanuel Airtime Theater - Miami, FL
Mid Eastern Dance Exchange Studio Party - Miami Beach, FL
2nd Annual Race Unity Day - Miramar, FL
Mid Eastern Dance Exchange 15th Anniversary Show- Miami Beach, FL
The Grand Bazaar at Luna Designs, Espanola Way - Miami Beach, FL
2004
Belly Dancing Party at Dancer's Gallery - Pembroke Pines, FL
Apathy & Passion at the Ancient Spanish Monastery - N. Miami Bch, FL
The Grand Bazaar at Luna Designs, Espanola Way - Miami Beach, FL
Race Unity Day (Sunset Lake Community Center) - Miramar, FL
Joharah's Spring Hafla - Miami, FL
Dancer's Dream Studio Party - Pembroke Pines, FL
2003
Orientalia 2003 - Miami Beach, FL
Mid Eastern Dance Exchange Open House - Miami Beach, FL